Not so much "themselves" a good measure, how to measure correctly :-)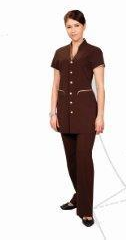 If, after the adoption of models of clothes of repeat collaboration, and Your company is on the other end of Poland (Olsztyn), then I had a question, or, for example, to Tobago can come to measure the staff.
Sometimes I can – this comes into play with large orders. And if the order is too small, the gasoline and time cost too much.
For if your order of Warmia and Mazury, it is I go to the hotel and personally measure the staff. Then everything, from ordering to my hands – I'll do it from beginning to end so that the clothes of the employee on each, of course, wanted, that all was well.
In most cases there is no need to I personally came.
If after you have sent fashion hotel, you accept my offer, then after payment I send all rozmiarówkę (you can see tablethat is no different from the clothing sizes that you can buy in shops or via the Internet).
This method works because it is in Warsaw, Zakopane is there in Wroclaw, that's what I do. Even in Germany we all rozmiarówkę, for example, shirts, pants, skirts, jackets and all always liked. Even in a store you buy clothes, you choose the size, isn't it?
Now it is enough to measure the staff and save the results.
What measures staff, or roulette?
Yes, it is. Oddeleguj ONE person who measures the whole staff, compare with rozmiarówką and save:
Mrs. Maria I need:
pants size 38,
skirt 38,
shirt 36,
the jacket 36.
If you have 20 employees, send me the data of each of them, as described above, and I'll be sewing clothes for them to work in a hotel, and I will send machining so that each of them received separate zapasujące on his clothes for work.
One warningdon't let the staff person on their own – usually ladies yourself take away the inches, and then ordered it for work clothes don't fit!